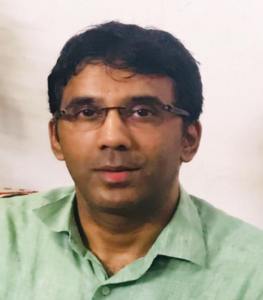 DR. ABDUL GHAFUR
MANAGING TRUSTEE
COORDINATOR CHENNAI DECLARATION
INFECTIOUS DISEASES CONSULTANT
Dr Abdul Ghafur is a Senior Consultant and Adjunct Professor in Infectious diseases at the Apollo Hospitals, Chennai, India. Dr Ghafur is very active in the academic, policy, research and political aspects of Infectious diseases. He is the primary author and coordinator of the "Chennai Declaration", a globally renowned document and initiative by medical societies in India, to tackle the challenge of antimicrobial resistance from an Indian perspective. He is a former technical advisory committee member for the National antibiotic policy of the Indian Ministry of Health. Dr Ghafur is an advisory and Jury member of the "Longitude Prize"- a ten million Sterling Pound Prize announced by the British prime minister. He had the honour to be interviewed by the British Medical Journal for the "BMJ confidential" to recognise the work in the antibiotic policy field. He has delivered lectures in numerous prestigious international Infectious diseases and antibiotic policy conferences and has been published in well-reputed journals such as the BMJ, Lancet, etc. He is an editorial board member and reviewer of many international journals. He received the Indian Medical Association oration award for his contribution towards tackling antibiotics resistance efforts.
---
Dr Vasant Nagvekar is a senior Consultant in Infectious Diseases at Lilavati Hospital and H N Reliance Foundation Hospital, Mumbai. He qualified his MBBS (1989) MD (1994) from Grant Medical College and J J Group of Hospitals. He also served as a Lecturer in Grant Medical College in the Medicine Department. Dr Vasant is an MUHS (Maharashtra University of Health Sciences) Teacher in Infectious Diseases at Lilavati Hospital. He has been awarded as a Fellow in Infectious Diseases Society of America which is a prestigious qualification. (FIDSA)
He has been one of the Advisors to Government of Maharashtra in the Covid Pandemic. He was also a part of Antibiotic Policy making for Government of Maharashtra. He was a part of ICMR on the Topic of Prescription practices in India. He is a Lifetime member and of Clinical Infectious Diseases Society of India. As a part of team been Awarded the BMJ AMS Award (British Medical Journal Antimicrobial Stewardship) in 2014. His main interest is In Invasive Fungal Infections and Immunocompromised Hosts.
DR VASANT NAGVEKAR
DEPUTY MANAGING TRUSTEE
INFECTIOUS DISEASES CONSULTANT
---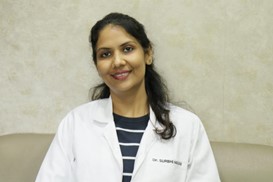 DR SURABHI MADAN
TRUSTEE
INFECTIOUS DISEASES CONSULTANT
Dr Surabhi Madan is a Consultant and Head of the Department, Infectious Diseases, at Marengo CIMS hospital, Ahmedabad, India. After completing her graduation, she stood as a gold medallist during her post-graduation in General Medicine from Government College Surat, in 2009. She completed her post-doctoral fellowship in Infectious diseases with distinction from PD Hinduja National Hospital and Research Centre, Mumbai, a highly renowned and prestigious medical institute of the country. She has over 10 year's experience of managing patients with various infectious diseases. Her keen interest lies in the management of cardiac infections, infections in transplant recipients, treatment of drug-resistant bacterial infections and tuberculosis.
She is a lifetime member of Clinical Infectious Diseases Society (CIDS), India and a member of the Infection Control Subcommittee of CIDS. She is also a member of IDSA, ISHAM. She has been on the panel during the formulation of India Covid guidelines. During the pandemic, she played a key role in establishing evidence-based COVID-care in her institute as well as across the city and state. She runs a Fellowship Infectious Diseases program at Marengo, CIMS hospital, Ahmedabad under her supervision. She has mentored the research work in the field of clinical research in her institute and has been an internal examiner for FNB infectious diseases hospital examination. She was awarded the Times Power Women award in 2021 for her contribution towards the society in the field of infectious diseases. She was honoured with the ASIA-GCC ICONIC HEALTHCARE LEADER award in 2021.
---
Dr Anup is a senior Infection Control Practitioner with over 15 years of experience in Clinical Infectious Diseases and establishing/managing hospital infection control programs that have met the standards of international accreditation bodies like the Australian Council of Healthcare Standards International (ACHSI) and Joint Commission International (JCI). He is one of the few clinicians in India who is certified in infection control (CIC) by the Certification Board in Infection Control (CBIC), USA in 2011 and re-certified in 2017. Dr Anup was the SHEA International Ambassador in 2015. He has further focused on implementation of Antimicrobial Stewardship Programs (AMSP) which have been constantly evaluated for their outcomes. His focus on AMSP is evident from the fact that he pursued multiple certifications in AMSP – from the WHO-MOOC, British Society of Chemotherapy certification program and the on-site weeklong Certificate Program in Implementation of AMS with the Radboud University, Netherlands. His work in the field of Hospital Infection Control and Antimicrobial Stewardship is reflected in the various publications and conference presentations on these subjects. The Infectious Diseases Department under him is recognized as a European Collaboration Center (ECC) by the ESCMID in AMS and has been awarded the IDSA Center of Excellence Certification for AMSP in 2021. Dr Anup is a member of the State Task Force on AMR Action for Kerala and member of the task force for developing the content for HIC guidelines for NCDC.
Dr Anup Warrier has also focused on building up an academic center for infection control and his hospital has served as a center for observership for multiple students. He runs a Fellowship Program at his hospital – Aster Medcity; and is also an Adjunct Faculty with the Amrita Institute of Medical Sciences (a Medical University Hospital) for their Fellowship programs. The Infectious Diseases department under him regularly trains Core Medical Trainees for MRCP. Considering the quality of clinical and academic work, he was awarded the Fellowship of the Royal College of Physicians (FRCP) and also elected as Fellow of Infectious Diseases Society of America (FIDSA) in 2020. Dr Anup Warrier has been a part of the Guideline Committee for the National Guidelines for Hospital Infection Control (Govt of India, NCDC) and the Asia Pacific Society for Infection Control for Guidelines for prevention of SSI which are examples of national and international recognition in the field of infection control. Dr Anup Warrier is certified from Indian Institute of Management, Kozhikode – one of the premier Management schools in India for Leadership in Healthcare Management, certified in Six Sigma from EXEMPLAR and has proven management skills as he functioned as the Chief of Medical Services and Head of Quality and Medical Affairs for Aster Medcity for many years. Projects conducted under him have received the Healthcare Management Asia Awards twice. Presently, he is the Lead Consultant for Infectious Diseases, Infection Control and Antimicrobial Stewardship for Aster DM Healthcare India (14 hospitals) and the Chief of Medical Services for Aster Medcity at Kochi.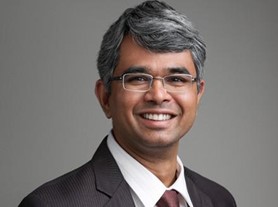 DR. ANUP WARRIER
TRUSTEE
INFECTIOUS DISEASES CONSULTANT
---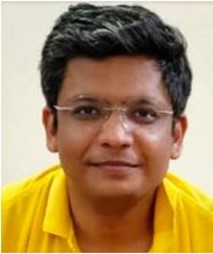 DR NITIN BANSAL
TRUSTEE
INFECTIOUS DISEASES CONSULTANT
Dr. Nitin Bansal is a Consultant, Infectious Diseases in Rajiv Gandhi Cancer Institute, Delhi, India. He is formally trained in managing various infections and has experience of over 5 years. He graduated from prestigious Maulana Azad Medical College, Delhi, India in 2010 and then completed his residency in Internal Medicine from University College of Medical Sciences, Delhi, India in 2015. He did a post-doctoral fellowship in ID from Apollo Hospitals, Chennai. He has experience in managing infections unique to cancer patients. His current and past research interests include management of infections in immunocompromised hosts and hospital epidemiology. He is a Lifetime member of Clinical Infectious Diseases Society (CIDS).
---
Dr V R Yamunadevi is a Consultant in Infection control, Operation theatre and CSSD coordinator at Apollo hospitals, Chennai. She completed her graduation in the year 2003 from Amravati university, Maharashtra. She has a dual degree in the field of Anaesthesiology and Clinical microbiology (Gold medallist) from Madras medical college, Chennai. She has over 10 years of experience in the field of Anaesthesiology and clinical microbiology which puts her in a unique position in the field of Infection control. She is one of the few clinicians in India who is certified in infection control (CIC) by the Certification Board in Infection Control (CBIC), USA in 2020 and by New York health department in 2016 and recertified in 2021. She was bestowed with the SHEA International Ambassador in 2020. Currently serving as a national coordinator for AMSP at Group level Apollo hospitals. She was conceptualization and instrumental in receiving Asia pacific hand hygiene award 2021, Asia pacific award for CSSD centre of excellence Gold category in 2019. She is a certified simulation trainer and serves as a faculty at Apollo simulation centre for medical and paramedical students. Dr Yamuna is certified from University of Washington one of the premiere universities for Leadership and management in health. She is a certified professional from John Hopkins university on Outbreak management which aids to lead outbreak management. Quality improvement projects conducted under her guidance on patient safety related to AMSP and infection control practices have received the Healthcare Management Asia Awards, Sultanate of Oman excellence and Apollo innovation awards. She has Professional membership in (SHEA, ECCMID, IMA, CIDS, ISA, CAHO, IAMM). Her areas of interest in past and recent research work includes outbreak analysis, quality improvement work on infection control practices.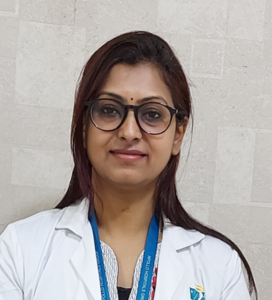 Dr V R YAMUNADEVI
TRUSTEE
INFECTION CONTROL CONSULTANT
---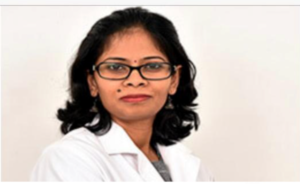 DR ASHWINI TAYADE
TRUSTEE
INFECTIOUS DISEASES CONSULTANT
Dr. Ashwini Tayade is a Senior consultant Infectious diseases at the KIMS hospital, New Era hospital Nagpur. She is director adult vaccination clinic and ID clinic, Ramdaspeth,Nagpur. Dr Tayade was instrumental in establishing concept of ID in central India and during these efforts she has conducted many CME, was organising secretary for CIDSCON 2017 which was conducted at Nagpur.
She was awarded Young Achiever Award by API Vidarbha chapter for her efforts in field of ID. She was part of Mucor mycosis district task force. She is a member of CIDS governing council and active member of adult immunisation subcommittee. She was instrumental in starting CIDs Nagpur chapter in December 2021. Her areas of interest are Ault immunization/XDR TB/ difficult to treat GNB,HIV.